Calling all gamers! GVTC offers internet connection speeds up to 1 Gbps and symmetrical broadband connections, up to 250 Mbps. Serious gamers know that having a low-latency, high-quality connection ensures your button mashes register without lag and is vital for getting the best gameplay. The good news is, GVTC is ranked in the Top 10 nationwide best gaming ISPs for 2021, according to PCMag.
GVTC Fiber Internet gives you the power to play on your terms. With faster download AND upload speeds on our top-rated Fiber network, you have access to the fastest connection available. You can choose your pick of 500 Mbps or 1 Gbps downloads, giving you the lowest latency in the market.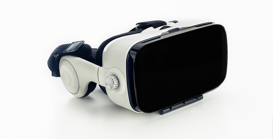 Want even better news? Sign up for 500 Mbps or 1 Gbps GVTC Fiber Internet by March 31, 2021, and you'll be automatically entered to win an Oculus VR Headset! This virtual reality headset has state-of-the-art 3D graphics, an effortless controller, and spatial audio drivers that provide immersive sounds. Make sure to spread the word to all your game-obsessed friends and family members, so they don't miss out on an opportunity to win this fantastic product! If you would like more information, you can read the official contest rules and visit our website for our privacy policy.
Want to learn more? Watch LFG Gaming Cafe's Sam Elizondo speak to GVTC's Network Operations Supervisor Chris Cooley about how GVTC's Fiber Network helps gamers stay connected when it matters most. Click here to view.