Endless Options with GVTC connectHome® | Smart Security | GVTC
It's no secret the future is now. What may seem like a secret is that today anyone can be a superhero from home. Picture this, there's been a crime. Somebody has eaten all the cookies from the cookie jar and both parents and kids swear by their innocence. With no evidence of cookie crumbs trailing back to the culprit, how is anyone supposed to know who really did it? GVTC connectHome® smart security automation, that's how. Easily view live video of your home on any mobile device from our Honeywell® Total Connect app to see who the real cookie monster is. Move along Superman, there's a new superhero in town!
The first thing that comes to mind when talking about a smart home system is security, and all the ways it can protect your family. While that's important, , there are also many creative and fun uses for your GVTC connectHome® Security.
Just like the futuristic family, The Jetsons, who played with sleek gadgets that made life in the future so cool and so simple, we can now use our smart home systems in the same way to connect with our family, play pranks on each other, and stop common mischievous behavior right in its tracks. With a little imagination and fun in mind, we came up with a few creative ways to use your GVTC connectHome® system to maximize smiles at home and minimize mischief as well.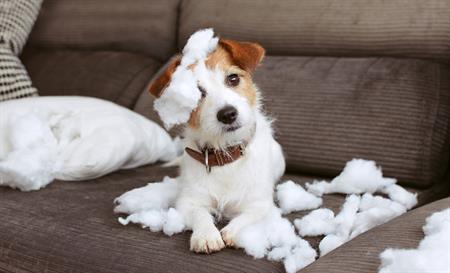 Keep an eye on Fido
If you have a pet, you know there's always a risk for mischief when you leave them. No matter how trained your dog may be, chances are it can't fight the temptation to search every last trashcan looking for the perfect chew toy.
With GVTC connectHome® security, the chances of Fido getting away with sneaky tricks are limited. Say, for example, you've been away at work all day and uh oh...Fido spots one of your favorite shoes! Normally, it'd be too late. The damage would be extensive. You'd come home to bits and pieces of your favorite Calvin Kleins strewn across your bedroom floor. Let's imagine if you had GVTC connectHome®.
GVTC's automation system can sync your indoor camera's audio capability to your phone app, so you can shout "No!" to Fido from your phone no matter how far away you really are. You'll have 24/7 access to your feisty pup. Now, whether Fido obeys your commands to drop your shoe or not, we cannot guarantee.
Pranking that one family member who constantly plays pranks on you
We all have that one person in our family, whether that's your partner or one of your kids, that is always coming up with funny little pranks to get you. Well, not today! It's now your turn to get them back. With the ability to sync Z wave devices to your GVTC Honeywell® Total Connect app, there's plenty of possibilities to get a fun and healthy scare out of someone. Whether it's making ghost noises into the camera audio speaker or turning the lights on and off scary-movie style, the Honeywell® Total Connect app gives you the tools to get even and finally be the one saying, "Got you!" for once.
Become a real-life superhero
We all know our little ones live to experience magic, and the best magic is feeling like your parent is a real-life superhero. What if we said our smart home automation system can put you among the Marvels of the world by making them believe you have special powers? With the help of GVTC connectHome® Smart Security, you can be the master of light – or rather the master of appliances – as you command doors to lock, lights to turn on as you walk into the room, and your voice carries through walls using the Honeywell Total Connect app for automation. Of course, this is believable up to a certain age, but wouldn't it be lovely to be able to connect with your kids and make sweet memories using the same smart home system you use to keep them safe?
For more ideas on how GVTC connectHome® smart security can help you not just protect, but also connect with, your family, check out GVTC's blog about smart home devices it syncs with.