Choose Your Friends Wisely and TX Non-profits Wiser | GVTC
There's an old saying about choosing your friends wisely, and also choosing friends that you can trust. It's crucial to pick those you will spend time with and come to depend on carefully, as you are more likely to avoid those living in a 'me-hole.' You know... the people in a hole full of "me, me and me," who drain your energy and leave you hanging when you need them most. While a big "duh" may have crossed your mind, it's surprising how many people and companies don't apply the same type of discernible thinking when considering which organizations to make donations to, partner with, or help carry out a good cause. At The GVTC Foundation, we take our mission of enhancing the quality of lives in those within our community very seriously and make sure to partner and support local non-profits and organizations that have the same mission as we do.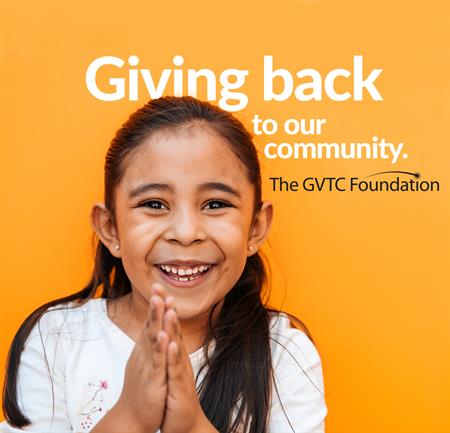 Local. People Oriented. Impactful. - The things at the core of every effort and partnership.
Curious what non-profits in our Texas Hill Country share the same values? Then read on! We're shining a light on 5 life-changing organizations The GVTC Foundation supports and how you can get involved!
1. Kicking Cancer's Butt (Health Services)
Cancer is a true fight. That's why we partner with the American Cancer Society of Comal County to help give our neighbors the tools to fight back even harder! With health services as one of our six main focuses, it's no surprise why an organization that provides cancer information and resources to help manage cancer treatment and recovery is one we're proud to support. Going as far as removing issues with transportation and lodging for those whose treatment is far from home, at no cost, it's easy to see why this partnership is unmistakably one that makes a big impact in our community.
With 1 out of every 3 people in the US being diagnosed with cancer in their lifetime, there's a good chance someone close to you is battling this disease. Want to help? Join their signature fundraiser, the Relay For Life event, for a fun way to give back. Two local ones in our service area we have supported include Comal Relay for Life and Gonzales Relay for life.
2. Fires of the Heart (Emergency Services)
What would you do if your home disappeared from a sudden fire? Losing your belongings, your home, and the memories that go with it is tough to face. Firefighters put their lives in danger to serve their community, but it's a big job often requiring lots of outside help. It's easy to think we would all jump in to help our neighbor from their burning home, but when that means risking your own life and leaving your loved ones behind, the actual number of people willing to volunteer shrinks. That's why The GVTC Foundation is proud to have recently supported the brave Volunteer Fire Departments in the surrounding Texas Hill Country areas of Belmont, Bergheim, Blanco, Bracken, Cuero, Delhi, Kendalia, Nixon, Sisterdale, Smiley, and Westhoff in addition to non-volunteer Fire and EMS departments.
Emergency Services are frequently taken for granted, so The GVTC Foundation makes it a steady goal to support where we can.
3. Blessings in a Backpack, Blessings all Around (Youth & Health Services, Education)
When it comes to child hunger, most of us think of a 3rd world country with no access to AC or clean water, but what if we told you that more than 13 million children in the US are from food insecure homes, meaning they don't know where their next meals are coming from? Research points out that under-nutrition can have devastating consequences not just for their health, but also their overall educational performance including their IQ, shortened attention spans, and lower academic achievement.
The GVTC Foundation believes education is the most powerful weapons to change people's lives and provides support through grants and donations to groups like Blessings in a Backpack that provides children with meals to hundreds of children in Boerne ISD schools. Because at the end of the day, they're not just feeding kids breakfasts and lunches, they're also providing kids in our communities with a fair chance to succeed in life!
4. Silent No Longer (Health Services)
Imagine wearing silencing headphones throughout your regular day. Now, think of all the challenges you'd face performing basic tasks. That would be difficult, right?
Our partners at Aid the Silent help deaf and hard-of-hearing children and teens receive equal access to opportunity by providing assistance to enhance communication methods, education resources, and improve both their mental and physical health. Giving our people an equal chance at life despite their circumstances is a cause worth supporting.
Want to see first-hand how far our grants can go? Check out these Success Stories from families whose lives were transformed with a little help from Aid the Silent and caring community members.
5. Culture is Our Culture (Cultural)
Music is a passion that does not discriminate. There is a genre for each one of us that makes life more enjoyable, accessible, and communal. That's because art is a powerful tool that helps us connect with both ourselves and the world around us.

The GVTC Foundation believes it's not enough to support education through school or health services; we also believe cultural education and experiences are just as important for the betterment of our community. Providing support to non-profit groups like the Boerne Performing Arts, whose mission is to present world-famous classical musicians to the Texas Hill Country residents and enhance awareness of the arts aligns with our focus of making cultural development part of our way of life.

If you haven't experienced one of these rich performances for yourself, we highly encourage you to! Check for upcoming events and tickets available here.

There are plenty of other local non-profit groups The GVTC Foundation supports through grants and donations, that align with one or more of our six giving focus areas. To learn more about the other partners we trust to enhance the quality of life in our community, check out our website at https://gvtc.com/gvtc-foundation/grants.