New Year, New Offerings | TX Communication Services | GVTC
'Tis the season to think about what kind of vibes we want to start this new year with. Whether we look forward to eating more veggies, get some much-needed exercise, or read a few more books this 2020, we're all looking forward to meeting a better version of ourselves. The road to self-improvement is certainly a healthy path leading us closer to our goals, but what if there's a different and more attainable way of making this a better year than last? Picture 2020 as the year we recognize all the amazing things we already are, and appreciate ourselves for the things we already do. Forget the whole "new year, new me" outlook, because quite frankly, we consistently demand so much of ourselves already! 'Tis the year to demand more from the products & services we keep at home instead, so they're the best tools to facilitate the path to our most wanted objectives. Sound like the right vibe to bring into this new year and decade, right? GVTC thinks so too! Here's a look at our new offerings designed to make your life easier and help you accomplish whatever plans you have this 2020.
Best in the Biz
New Year's resolutions are all about being your best, but to be the best you need to use the best! AT GVTC, we understand the demands of the modern world require us to use the internet for just about anything, hence why GVTC Premium Wifi provides you with the most advanced Wifi experience available.
Powered by the latest in WiFi technology, our Mesh Capable WiFi 6 router is just faster and provides you with greater coverage for strong internet connection regardless of the location. Because Dead Zones and weak connection spots in your home are so last years!
Not only can our new WiFi experience deliver a quality connection everywhere you go, it also allows you to extend your coverage with our Mesh Access Points. Texas-sized home? No problem! As easy as adding a mesh access point to any rooms previously exiled from coverage or affected by signal-interfering devices like microwaves, you can now have grade A coverage all over your home. Like a good minion, our WiFi experience is faster, reliable, and can go the longer distance–make it work for YOU this 2020!

Feeling in Control
Switching to a healthier diet or beginning a new fitness program requires lots of control, self-control. This 2020, you can start taking control not just of your own actions, but of your home too–because he who holds the key to the WiFi has the true power! The GVTC WiFi app gives you the reigning power in your castle by allowing you to manage connected devices, enable parental controls, set up guest networks, and change passwords easily. So, next time little Billy ignores your call to the dinner table because he's zeroed in on the new series on Netflix, you can easily turn off his WiFi connection and show him when you say dinner's ready, you mean business. Control feels good, doesn't it?
Fun is Good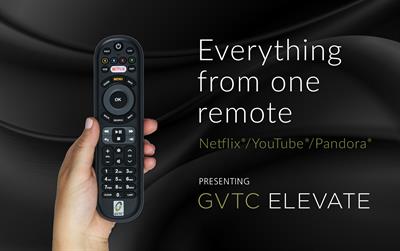 Career and self-improvement resolutions are great and all but we could all benefit from making it a point to enjoy life a little more and simply have more fun in the new year. Can we get an Amen! Now, what better way to enjoy some good old fashioned fun at home than to binge-watch the newest Netflix Original or that HBO series everyone is talking about. However, don't be fooled into think all streaming experiences are created equal. For starters, streaming on fiber internet vs cable connection can be the difference between waiting over 20 minutes and just a few seconds to download a movie, so that's a great starting point for a better experience.
Another way to take your at-home-entertainment to the next level in the new year is with our Alexa enabled GVTC Elevate TV Guide. Our latest all-in-one functional TV guide comes integrated with your favorite streaming apps, so you can leave the days of multiple remotes in 2019 and start living in 2020. Now, what does all-in-one mean exactly? Here are some examples of how GVTC Elevate can meet all your media needs with only a single remote (or a simple Alexa command):

✓ Record up to 5 shows simultaneously
✓ Parental Controls
✓ Stream TV on multiple devices
✓ Video-On-Demand
✓ User-Friendly TV Guide
Whether you're living your best life by commanding Alexa to record the new series of The Bachelor, enjoying more laughs from funny YouTube videos all over the house, or sleeping better knowing the parental controls on the GVTC WiFi app help you enforce your home's rules better, the newest GVTC products are here to help make your home the best part of this new year. So get ready to curl up on the couch with the family–a nice cup of hot cocoa in hand– and 'NEwcheers' to your best life this 2020!