Giving someone access to your WiFi network can be as dangerous as giving them your social security number. Sometimes sharing is caring, but when it comes to your home WiFi, it's not so warm and fuzzy as the saying goes.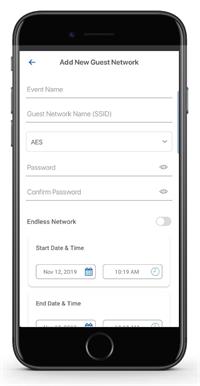 Protect the integrity of your home network and warding off potential hackers or piggy-backing neighbors by setting up a Guest Network for all non-household members. To get started, you'll need to download the app from either the Apple App Store or Google Play. Check out the full instructions on how to set up your GVTC WiFi App here.
Setting up your Guest Network:
Open your GVTC WiFi App

Select Guest Network from the main menu

Click on the "+" sign to "Add a Guest Network"

In the Setup a Guest Network screen, enter an event name (i.e. family visit)

Set the name of the wireless guest network as you want it to appear for your guests
Managing your Guest Network:
In the drop-down box, you can choose to set a password for this guest network, which we highly recommended to keep your network safe!

This will bring up additional boxes for you to set and confirm your password

If you set a guest network to Endless, it will stay available indefinitely.

The alternative is to set a Start and End time for this guest login to be valid.

Once you have set the parameters for your guest network, select "Save & Send SMS" at the bottom of the screen

This will bring up your contact list so you can email a link directly to your guest(s) for easy access to Wi-Fi

Once you have sent your email, you will have the option to send to other guests or simply select Done at the bottom of the screen

By selecting this Guest Network from the main screen, you can edit, delete, or send to additional guests
Benefits of having a Guest Network:
Protect your home systems from potential hackers

Ward off unwanted neighbors looking to piggy-back off of your speeds

Maintain full control of your household's security

Guarantee you get the speeds you pay for by safeguarding access to your network
Creating a guest network has never been easier. To gain the peace of mind it offers, discover GVTC internet options available in your area today at www.gvtc.com/shop.