Curious how long your kids have been online this week? Ever wonder how much sleep you lose by catching up on emails before bedtime? Whatever the scenario, it's always a good idea to keep tabs on your home network usage - even if to simply restore a little order to your family's routine or see how well your speeds meet your WiFi needs. And thankfully, GVTC's Premium WiFi upgrade offerings allow just that.
Before you start, make sure you have our GVTC WiFi App downloaded from either the Apple App Store or Google Play. Check out the full instructions on how to set up your GVTC WiFi App here.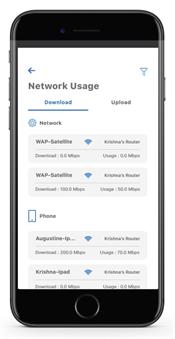 Keep Track & Monitor Your Usage for Each Device
Network Usage is organized by category on your GVTC WiFi App. From this view to the right, you can see basic information about usage from each Wi-Fi connected device on your network,
Including:
Device identification and whether the device is connected to Wi-Fi

What network device it is connected to

Network usage

The amount of data that has been used by this device Network Usage is updated each time you run a bandwidth test through the app.
Creating & Managing a List of Devices is as Easy as 1-2-3
When you select a category from your Network Usage, devices identified in that particular category (i.e Phones, Computers) will be shown. You can use the directional arrows below each section to expand or collapse any category.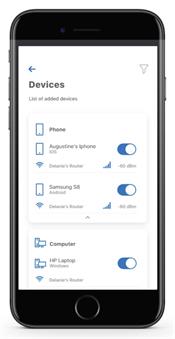 From the expanded list view you see on the right, you can see basic information about each Wi-Fi connected device on your network, including:
Device identification

Signal strength of the device

How it is connected to the network
You can also remove Wi-Fi access for individual devices by moving the toggle button from On to Off. This comes in handy when it's time to enforce bedtime with the kids or limit screen-time so they can focus on homework. Then, if you tap on a device from this screen it will bring up additional details for that device.
Exploring Device Details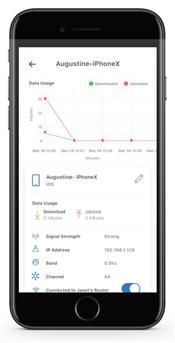 Once you navigate to your list of devices, you can select any device that's connected to see further details about network usage (i.e. speeds, data used, type of device). The device details screen shows you the device name at the top of the screen followed by a chart that indicates the amount of data that was used by the device over a period of time.
By selecting the pencil icon on the right side, you can rename the device to something easier for you to identify. Data Usage shows data that was used by this specific Device. The bottom box shows additional connection details for this device.
Get GVTC Premium WiFi
Gaining control and confidence over your home network has never been easier. To gain the peace of mind and insight it offers, discover GVTC internet options available in your area today.