GVTC Launches Self-Monitoring Security Option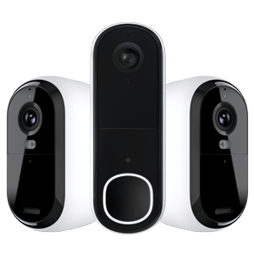 Since the inception of GVTC in 1951, we have been committed to providing our customers with leading-edge technologies. From telephone to fiber internet to cable TV to security, we make sure our customers have the best experience possible. That is why we are so excited to announce that we are adding Arlo Security to our list of services under GVTC connectHome® starting November 22.
We will have multiple DIY package options to choose from that include the products below. All products are also contract-free and come with support with any hardware issues. For a limited time, we are offering an awesome Black Friday Deal from 11/22 - 11/28. The deal includes free professional installation ($99 value) by one of our certified technicians with all of our Arlo bundles. Don't miss out! Click here for more details.
With the Arlo Secure App, you can stream live video, play recorded clips, easily arm and disarm your system, and stay aware of what's happening when you are away from home. And, with Arlo Smart and Rich Notifications, you can take immediate action on alerts without unlocking your phone. Arlo even works with Amazon Alexa, Google Assistant, SmartThings and IFTTT so you can build a safer and smarter home. See below for the list of features included.
Interactive Notifications
See event snapshots, play videos, and take action from your lock screen
Activity Zones
Gives you the ability to fine-tune areas that trigger motion and notifications
Cloud Storage
Up to 30 days of cloud storage to save pasts events and videos
Data Protection
Advanced security protocols backed by Arlo's Privacy Policies
Emergency Response
With one touch of a button, quickly send first responders to the camera's location, saving precious time in case of an emergency.
Person Detection
Detection of person in videos and motion events based on AI
Vehicle Detection
Detection of cars and trucks in videos and motion events based on AI
Animal Detection
Detection of various animals in videos and motion events based on AI
Package Detection
Detection of packages and parcels in videos and motions events based on AI
Smoke/CO Alarm Detection
Detection of audible smoke or carbon monoxide alarms based on audio AI
Homes without a security system are 300 percent more likely to be burglarized. Protect your loved ones by adding Arlo from GVTC connectHome® smart security to your home today!
---