How to Protect Yourself from Spoofing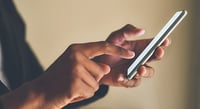 Spoofing is when a scammer disguises their identity by purposely misrepresenting the name or number that appears on your caller ID. In most cases, these calls try to trick you into providing valuable personal financial information such as your Social Security or credit card number.
Scammers have also begun utilizing Neighbor spoofing. Neighbor spoofing is when illegal robocallers display a phone number similar to yours or use your area code or one from a neighboring area in the hopes you are more likely to answer the call and provide personal information.
According to USTelecom, over 56 MILLION Americans lost nearly $19.7 billion from spoofing phone scams in 2020.
Follow the tips below to avoid these spoofing calls.
Don't answer calls from unknown numbers.

Hang up if you accidentally answer the phone

Don't hit any buttons if the caller or message instructs you to stop getting these calls.

Don't answer any questions.

Never provide any personal information in response to a robocall.

Verify when the caller claims to represent a company you know or a government agency. You can always call the company or agency using the number found on their website.

File a complaint online with the FTC or call 1-877-FTC-HELP or FCC or call 1-888-CALL-FCC

Register your number with the National Do Not Call Registry
Even following the guidelines above, you may not be able to tell right away if an incoming call is spoofed. Just be extremely careful about responding to any request for personal identifying information. Remember to check your voicemail periodically to avoid missing important calls and clear out any spam calls that might fill your voicemail box.
---