Keep your Home Secure in 2023!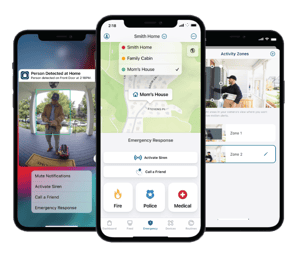 Exercise daily. Quit social media. Drink more water. These are all good goals, don't get me wrong. But we set the same New Year's resolutions every single year and then... never really stick to them. So, for 2023, why not make a resolution that will benefit you and your family? Make this the year that you create a safer household with Arlo from GVTC connectHome® smart security.
Starting January 4, any customer who signs up for one of the new GVTC Arlo Packages will be automatically entered to win an Apple iPad Pro 12.9 inch 512GB worth $1,000! The promotion ends on January 31, and the prize winner will be selected via a random drawing the first week of February. Click here for the terms and conditions. See below for the packages we offer and the benefits of each.
Arlo Video Doorbell + Fiber Internet
1536p resolution
180° field of view with 1:1 Aspect
Head-to-toe view of your front door
Respond to deliveries or people safely without opening your door
Answer your door from anywhere with a video call sent directly to your phone
Won TechHive Editors' Choice and CNET's Editors' Choice
Arlo Essential Camera + Fiber Internet
1080p resolution
130° field of view
See in the dark with color night vision
Long-lasting battery life of up to 6 months on each charge
The Arlo Solar Panel keeps your battery charged with direct sunlight and is included in this bundle
Arlo Pro4 2K Camera + Fiber Internet
Capture clearer details and colors in 2K HDR
See More with a wider 160° field of view
See in the dark with color night vision
Up to 6 months of rechargeable-removable battery life
The Arlo Solar Panel keeps your battery charged with direct sunlight and is included in this bundle
All Arlo bundles include the Arlo Secure Plan with no contracts and support after installation. With the Arlo Secure Plan, you receive the following:
Real-time Notifications
Receive notifications as soon as motion is detected.
Remote Siren Activation
Trigger your siren remotely or automatically during an event.
Live Video Streaming
You can view streams from your Arlo camera for a maximum of 30 minutes. If you view a stream for longer than 30 minutes, the Arlo Secure App will stop streaming. To resume the stream, simply press the play button again.
Secure Cloud Recording
View 30 days of crystal-clear video and easily share with friends and family.
AI Object Detection
Get smarter, interactive alerts that identify people, vehicles, animals, and packages for you, so you can act quicker from anywhere.
Smart Activity Zones
 Reduce unwanted notifications by highlighting areas of your property where you want motion to be detected.
Smart Interactive Notifications
When motion detection is enabled for your Arlo camera, you can choose what type of motion you want to be notified about.
Animated Preview Notifications
Expand your Arlo push notifications to better understand what triggered a motion detection alert. View a short video summary from your phone's lock screen.
Start the new year with total home protection from GVTC connectHome®. Click here to find the bundle that meets your needs. Don't miss your opportunity to win the Apple iPad Pro, shop today!
---