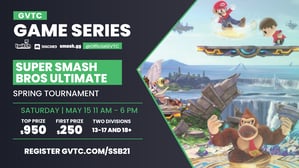 As the leading form of entertainment today, video games are an integral part of American culture. Esports have gained increasing popularity in recent years, and GVTC is excited to announce that we are joining the esports world and will be hosting our first ever gaming tournament on May 15 from 11 am - 6 pm!
The GVTC Game Series, Super Smash Bros Ultimate Spring Tournament, will have two competition brackets, ages 13-17 and 18 and above. We will be giving away first, second, and third place prizes for the winners in each bracket.
Prizes for each bracket:
1st Place - $250
2nd Place - $150
3rd Place - $75
We will have live support staff there to make sure all contestants are treated fairly and supported through each and every aspect of the tournament. Click here to see the official terms and conditions. Gaming superstars Isaiah McCants (AKA Productive Manner) and Oscar (AKA SSBKid) will be the casters of the event, keeping everyone informed on the action! Registration opens up on April 7 and closes May 8. Admission is FREE, but you have to register in advance. Click here to secure your spot!
This is an event you don't want to miss. Ramp up your skills and start practicing today!