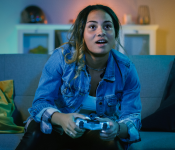 Attention all gamers! Having an internet connection with top-notch download and upload speed is great, but it's not the most important thing when it comes to gaming. Having a low-latency, high-quality connection from your ISP that ensures your button mashes register without lag is vital for getting the fastest gameplay. The good news is, GVTC has made the Top 10 nationwide best gaming ISPs for 2021, according to PCMag.
All tests in the PCMag story were conducted between December 1, 2019, and November 30, 2020. They used 280,777 US-based tests to quantify the results and gathered over 397,574 tests worldwide! GVTC is so proud to have achieved this accomplishment and will keep working to ensure our customers continue to have the best internet speeds possible.
If you haven't already, you should check into our Fiber Internet. It gives you the power to play on your terms. With faster download AND upload speeds on our top-rated Fiber network, you have access to the best connection available. You can choose your pick of 500 Mbps or 1 Gbps downloads, giving you the lowest latency in the market.
Want to learn more? Watch LFG Gaming Cafe's Sam Elizondo speak to GVTC's Network Operations Supervisor Chris Cooley about how GVTC's Fiber Network helps gamers stay connected when it matters most. Click here to view.
173198001