Optimize Your Home This Summer With Geofencing and Smart Scenes
In 2021 there were over 250 million smart homes worldwide and that number is only expected to grow. Whether you already have a smart home or are curious to learn more about its benefits, here are two awesome smart home features that you need to be utilizing this summer!
Geofencing
If you've never heard of geofencing, geofencing technology tells your smart home where you are in relationship to your home. In other words, geofencing tells your home when you leave and when you're almost home.
Security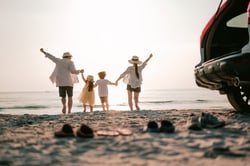 Have you ever left home in a rush and wondered if you remembered to turn on your security system? Or even worse, did you remember to lock the door on your way out?
With geofencing, whether you are running to the store for some last minute BBQ items, headed to the beach for a weekend getaway, or on your way to the airport for a tropical vacation, no matter how close or far your travel takes you, you no longer have to worry about the safety of your home! With geofencing, your smart home knows when you head out and will automatically arm your home security system.
Save Energy
With the summer months comes a higher demand for energy, from running the AC longer to just being home more often and running everyday appliances, and with that comes higher energy bills. This summer you can use geofencing to help you keep your energy costs down.
Summer, while meant for relaxation and fun, can also be a very busy time. Whether you are rushing out the door to catch a flight, taking the kids across town to visit a friend, or just heading out to work, sometimes we don't remember to check and make sure every light in the house is off or that the AC is turned back up to a reasonable temperature. With geofencing, you can set your system to not only turn off all your lights when you leave your home but you can also set it up to turn your AC back up the recommended 78° F.
Geofencing can also work in reverse. No one likes coming home to a dark home late at night. With geofencing, you can trigger your system to turn on all, or specific lights when you're on your way home.
Bring it all Together with Smart Scenes
Smart scenes are preconfigured settings for specific smart home devices in a given location, like your living room or kitchen. And smart scenes can be used independently or as part of your geofencing configuration.
Smart scenes can be utilized for endless scenarios in your life. Think about what lights you want on when you get home from work, or while you're making dinner vs eating dinner. Maybe you have a specific type of lighting you enjoy while watching television in the evening. Any common scenario you can think of in your home, that you have a specific way you like things lit, can be programmed into a smart scene.
And smart scenes aren't only for lighting! You can include thermostat settings, if you have smart blinds, opening and closing blinds, as well as any other smart appliance you have.
Some examples of smart scenes you may want to include in your setup include -
Good Morning: Create a smart scene that wakes your home up before you. A morning smart scene may consist of raising your window shades, turning on some lights, and starting your coffee maker.
Off to Work: Save yourself some time in your morning routine by setting a scene that will take care of shutting down your home when you leave to work. A smart scene to use for when you're heading off to work might make sure all home lights are off, your coffee maker is off, your thermostat is correctly set, and your home security system is on.
Coming Home: Make coming home from a long day at work even more enjoyable with a smart scene set up just the way you like. Set up a smart scene to turn on your lights, open your garage door, adjust the thermostat, and disarm your security system.
Bedtime: A bedtime smart scene may consist of arming your security system, making sure all your doors are locked, adjusting the thermostat, and dimming the lights.
Once you create a smart scene, it can be worked into your geofencing configuration or activated on its own.
It's important to remember that the sort of smart scenes you can create will depend on your smart home system and the type of smart devices in your home.
Don't have a home security system or looking for a more "intelligent" option? GVTC offers great home security packages with smart home features including geofencing and smart scene capabilities. Click here to learn more!
---