Everyone knows the hype of "movie night" comes from getting to experience it with friends and family. And while everyone is social distancing, people are scrambling to reconnect with loved ones any way they can. That's where Netflix comes in to make us whole again.
Introducing: Netflix Party - the new way to binge your favorite shows and movies with friends online.
Netflix Party allows subscribers to synchronize their movie and TV streaming with friends, and add group chats to the experience for the perfect virtual movie night. Group chat not enough for you? Take it to the next level by starting a video chat at the same time.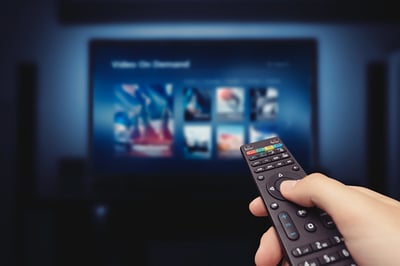 How it works
1. Install Netflix Party extension
To enjoy this new feature on Netflix, you'll need to install the Netflix Party extension on your Chrome browser. You'll click, "add to Chrome" to download and finish the install.
2. Open a video in Netflix
Once you have the extension installed, navigate to Netflix.com and choose the TV show or movie you and your friends/family want to watch together.
3. Create your online party
To create your Netflix Party, you'll want to click on the red "NP" icon located next to the address bar. Then, select "Start Party" to create the online party, and share your party URL link to invite friends.
4. Join a Netflix Party
If you're not the one who started the Netflix Party, you can join the party by clicking on the party URL sent to you. This will redirect you to Netflix.com. Once there, you can click on the "NP" button next to the address bar, and you will automatically be joined to the group.
Get the Internet Speeds You Need to Stream
We're #SorryNotSorry about getting you even more sucked into Netflix. But…. so long as you're bingeing, we'd like to ensure you have the right internet speeds to fit your newfound (or prolonged?) streaming hobby. GVTC has the perfect way to gauge this with our GVTC WiFi Score. By taking this 3-minute quiz, we can recommend which internet package can keep up with your lifestyle.
Don't settle for buffering screens. With GVTC Premium WiFi, you can find the right fit. You can choose from three different speed tiers and enjoy better device connectivity, greater coverage, and faster speeds to match your internet needs.
Host as many Netflix Parties as you want while knowing your internet connection is secure, reliable, and fast enough to keep up with it.